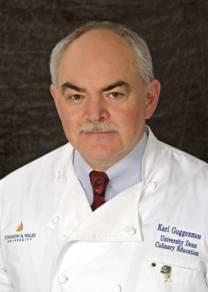 Karl J. Guggenmos, MBA
WACS Global Master Chef
Dean Guggenmos has participated in judging many prestigious domestic and international culinary competitions, including: as a Tasting Judge at the Bocuse d'Or in Istanbul, Turkey and just recently as a Judge at the International Chaine des Rotisseurs Young Commis Competition (also in Istanbul) where chefs from more than 20 nations competed.
In addition to being involved in various global keynote speaking engagements, Dean Guggenmos actively participates in consulting projects throughout the country.
We're pleased that he can join us as a Special Judge for this year's World Food Championships.
To find out more, visit worldfoodchampionships.com/talent.