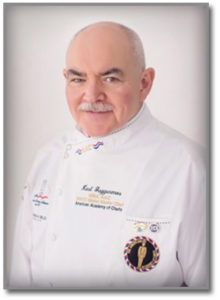 Karl J Guggenmos, MBA AAC
Founder and CEO, WACS Global Master Chef and Dean Emeritus, Johnson & Wales University
Chef Guggenmos is a recognized global culinary leader, a passionate educator and WACS Global Master Chef. Following a five-year culinary apprenticeship in his hometown of Augsburg, Germany he moved on to a career that spanned more than 50 years. He served as Executive Chef both in Europe and the U.S. In 1981 Chef Guggenmos gained status as a German Certified Master Chef and WACS Global Master Chef in 2008.He also earned an MBA in global Leadership in 2002.
In 1988 he started a new professional journey as culinary educator at Johnson & Wales University's College of Culinary Arts and soon established himself as a global leader in the field. His accomplishments as a teacher and leadership qualities led to his appointment of University Dean of Culinary Education, overseeing over 6000 students at 4 campuses. His vision and leadership set Johnson & Wales apart from other institutions, establishing a global mindset and recognition of the college as the leader in culinary education.
Among the pioneering programs, Chef Guggenmos:
introduced world-class, study aboard programs in Germany, Singapore and several other countries
created a pioneering Culinary Medicine program in joint collaboration with Tulane University's School of Medicine
developed a global standard for food safety.
He is a member of numerous boards and honor societies, including the Goldring Center for Culinary Medicine, the American Academy of Chefs, the honorable Golden Toque, and the Chaîne De Rôtisseurs, where he serves as Judge for the International Jeunes Chefs Competition.
Guggenmos has furthermore established himself as a keynote speaker, a judge at global culinary competitions and has served on the advising boards for Tyson Foods and Starbucks. He has also been a staunch supporter and Board Member of At-Sunrise Global Chef Academy in Singapore.
Guggenmos is currently the owner of CSI Culinary Solutions International and serves as Senior Business Advisor to Snapchef, New England's largest temporary culinary and hospitality staffing and workforce development agency. He also serves as Honorary President of the Institute of Culinary Art in Germany and has been named Culinary Ambassador for the State of Rhode Island.
Todd Snopkowski: Senior Advisor and CEO, Snapchef
Todd Snopkowski founded Snapchef in 2002 with over 25 years of experience in the food industry as an entrepreneur and executive chef with world class institutions such as Harvard University, Goldman Sachs, Aramark and Sodexo. Todd is remembered as Chef for The Olympic Village in Atlanta, where led a team of 72 cooks which fed 15,000 athletes daily for two weeks. Through these experiences, he learned that creating win-win environments with a commitment to community would be the key ingredients for any successful enterprise.
Today, he runs New England's largest culinary and hospitality staffing agency in New England, and is a recognized leader in workforce development efforts through his pioneering "Earn and Learn" approach to culinary education, which he developed in tandem with Chef Guggenmos. The Earn and Learn model provides aspiring new chefs with a unique 14-module training curriculum over the course of two years, while they gain experience in the industry
Patrick Bench: Director of Public Relations and Public Affairs, Founder & President, Benchmark Strategies
Patrick Bench provides public relations, public affairs and lobbying counsel. He specializes in economic development and procurement advisory services. Prior to launching Benchmark Strategies Patrick served for five years as a Vice President of Public Affairs at Rasky Baerlein Strategic Communications.
Prior to Rasky Baerlein, Patrick served for five years in economic development roles in the Romney and Patrick Administration primarily as the Director of Business Development for the Massachusetts Office of International Trade and Investment (MOITI). During Patrick's tenure at MOITI he worked with more than 60 foreign companies to open their North American Offices in Massachusetts and facilitated bilateral economic partnerships with more than 50 countries.
Gregory DiStefano: Director of Marketing
Greg DiStefano holds a bachelor's degree from Brown University and an MBA in marketing from Columbia University. Greg has spent 25 years in the fields of marketing, branding, advertising and public relations, in both the consumer goods and higher education industries. While at the J. Walter Thompson advertising agency in New York City, Greg received a Silver Anvil award from the Public Relations Society of America, for 1999's best "Integrated Communications" program in the United States.
Most recently, Greg served for 11 years as the executive director of university marketing at Johnson & Wales University. He developed significant foodservice industry experience through his role as head of marketing for the university's College of Culinary Arts.
Jennifer Daneaux: Operations Manager
Jennifer Danaux's received her bachelor's and master's degrees from Johnson & Wales University. She's worked at the five-star Peninsula Manila Hotel (Philippines) and the Food and Nutrition Security with World Vision International. Jennifer's culinary expertise combine with her management and organizational skills keep our operations running smoothly.